A new, fixed width WordPress theme with 2 columns. It is widget ready and has an options page. Optimized for WordPress 2.3 but works with WP 2.2 and 2.1 as well. Very browser-safe (on Opera the top navigation tabs are aligned left instead of right), valid XHTML. Changing the header image is easy.
Test run "Willy the Cat"
Download the WordPress theme "Willy the Cat" v. 1.05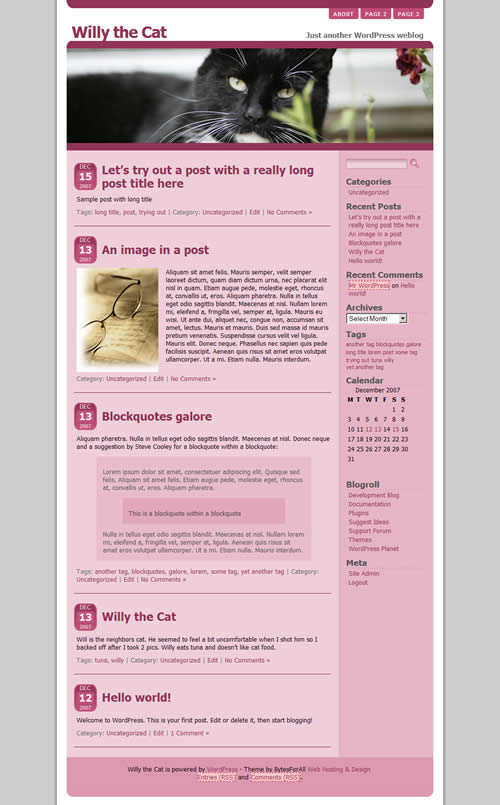 The header image is exclusive, taken by me. You can use it freely, including commercially, in combination with the theme.
License: GPL 2
Changelog:
v. 1.05 – Dec 18th 2007: Changed the way images are floated/aligned. You don't need this update if you don't see any strange behaviour on your site. Under certain conditions, posts or pages will look ugly though, mainly if you use the default "Image float: left" option in the "Willy the Cat Theme Options" page, and do things like using images with short text within list items. This update is mainly a change BACK to a more old-style and intuitive type of dealing with images and text floating around them. Instead of the "modern" but troublesome "float" you're encouraged to update to version 1.05 and start using the "align" feature of the WordPress editor's image editor. More info in the README.txt of this update.

Removed the option for site-wide image float and added clear:left to list elements and p paragraphs. In this new version, use the WordPress editor's "align" feature in the image editor to align an image left or right within text.
To break the alignment (if the text wrapping around the image is too short to get past the image by itself, the following text will keep wrapping around the image although you probably wanted to proceed below the image) use a h1, h2, h3 or h4 heading or press "Enter" to start a new paragraph.
Starting an ordered (1, 2, 3..) or unordered (bullets) list will also stop the text wrapping and the following text will proceed below the image.
If you made changes to the theme and don't want to update, set "Image float: left" to "Image float: none" at Site Admin -> Presentation -> Willy the Cat Theme Options, and add these lines at around line 180 in header.php, right before </style>:

img {margin: 10px; border: none}

.entry ul, .entry ol {clear:both}

.entry ul li, .entry ol li {clear: both}

.entry p {clear:both}

.postmetadata {clear:both}