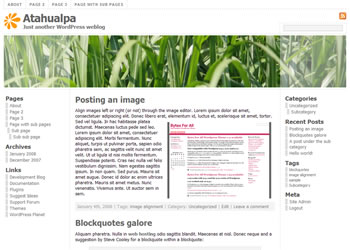 Changelog v. 2.21
Had to fix one error in the BFA Recent Comments widget: The blog owner would be linked with a broken link, instead of not being linked at all. Fixed in v. 2.21
Several users reported a "headers already sent" problem probably related to blank spaces (just spaces, not lines) at the end of functions.php. I had not seen that one as it doesn't seem to occur on every WP setup. Fixed in v. 2.21
If you're one of the 37 people that downloaded 2.2, and don't want to upgrade to 2.21, do this: In /wp-content/themes/atahualpa2/functions/bfa_recent_comments.php add the following line at line 197 (below the line that's already there and looks similar):
$output

 

=

 

preg_replace

(

"/<a href="

\

&

quot

;

http

:

\

/

\

/

\

&

quot

;

(

.*

?

)

">(.*?)/i"

,

"

\\

2"

,

$output

)

;</

a

>
This looks weird but when you copy & paste it, the huge spaces should be back to normal.
Additionally, as a 2.2 (and not 2.21) user, if you see that "headers already sent" issue, and don't want to upgrade to 2.21, remove the 50 or so blank spaces at the very last line (line 572) of functions.php. There should be nothing, no space and no blank lines, after that last
<?php } ?>
Both issues mentioned above are fixed in 2.21.
Changelog v. 2.2
MANY little fixes and improvements. Just about everything that was mentioned or suggested in the 80+ comments of the last release post is fixed or included.
Using v. 2.01's SEO functions along with a SEO plugin such as All-in-one-SEO might mess up your meta tags and might affect your google rankings. The new version Atahualpa 2.2 will check for All-in-one-SEO and 11 other SEO plugins and deactivate its own SEO functions if a third party SEO plugin is installed. Additionally you now will have to explicitely activate the Atahualpa SEO options.
No hardcoded areas anymore in the right sidebar for related post, popular posts, recent comments, actually no hardcoded anything anymore, anywhere.
Instead, there are 3 new widgets included in the theme now. BFA Recent Comments, BFA Popular Posts and BFA Popular in Cat (Popular posts in the given category). They will install automatically. You don't need to do anything. Check out the Recent Comments widget.
The plugin "Related Posts" is not included or integrated anymore. I couldn't turn it into a widget

for now

quickly enough. Please feel free to install that plugin or another one, i.e. "Similar Posts" on your own.
Several additonal options on the options page. Especially the header area can be modified quite a bit now.
Cleaned up the code considerably. You should now be able to edit the CSS on your own. The PHP code got a bit more complicated though due to the localization.
Localization not finished yet but should be in the next version.
WPMU users can upload header images and a logo icon, too
Print styles integrated. Even if you don't install WP-Print, visitors will still get a decent print version of any of your pages if they choose to print out a page through their browser's print function. Header, Footer, Sidebars, and a few things from the middle column will be removed, and links underlined, when a page is being printed. In Firefox (only) the URLs of links will be printed out, too.